The studio AhVero fashion illustration is permanent located in Milan and consists of the following team:
the creative director
&
fashion illustrator Veronika Akhmatova,
2 illustrator assistants
&
graphic designers,
1 digital media manager
&
videomaker,
2 programmers for web development and web marketing.
Our studio AhVero fashion illustration:
- creates new ideas of fashion design, following the inspiration of customer's creative vision
- turns exactly the customer's fashion ideas into visual content, illustrating in detail the samples, ready for the future production of couture/ready-to-wear clothing/accessories brands and fashion houses.
- creates illustrated content for marketing and advertising campaigns, including various social platforms.
- works on graphic design projects, from event invitations and business cards to product design and packaging.
- works on web design, web development and web marketing of companies.
Our studio sends the completed works done by order to the email of the customer using WeTransfer system.
All the artworks of studio "AhVero fashion illustration" are original, created by the spontaneous inspiration of Veronika and her team or on specific request of her clients.
About the license, once completed the work, we give by request also the commercial/original license copyright of the work, including all the usage rights (commercial, exclusive, etc) for the brand of our customer.
As for the non-disclosure of intellectual propriety of projects/collections of our customers before marketing launch, we also give by request our standard agreement not to share the informations.
You can see all services & recent works here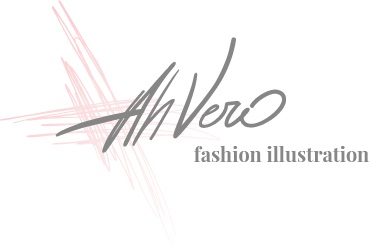 ©AHVERO. ALL RIGHTS RESERVED